Courtesy Daily Racing Form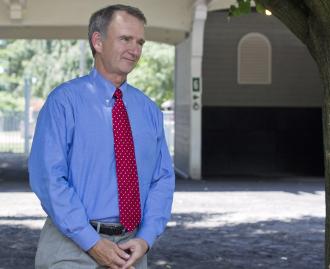 Barbara D. Livingston
During much of Chris Kay's tenure at the helm of NYRA, the company's racing operations showed a profit.
In a stunning development, Chris Kay is out as president and CEO of the New York Racing Association, the company confirmed in a press release issued Wednesday.
The release noted the board of directors accepted Kay's resignation, effective immediately, but did not give a reason.
According to multiple sources, however, the board asked for Kay's resignation after it learned that Kay had used NYRA employees to do private work for him at the house he owns in Saratoga, considered a breach of company policy.
A phone message left for Kay on Wednesday was not returned. Several members of the NYRA board also did not return calls.
David O'Rourke, NYRA's president and chief revenue officer, has been appointed the interim president and CEO, according to the release.
O'Rourke joined NYRA in 2008 as director of financial planning. He assumed his job as chief revenue officer in 2011.
While it is being termed a resignation, it was clearly not Kay's decision to leave NYRA. Kay, hired in 2013, was very much looking forward to the company's future as he had big renovations planned for Belmont Park.
In an e-mail sent to NYRA employees in December and obtained by Daily Racing Form, Kay wrote, "We have come a long way over the last five years. . . . We have accomplished a great deal together. As a result, I am also very optimistic about what we can accomplish together in the future."
Kay, a former executive at Toys R Us and Universal Parks and Resorts, was hired to lead NYRA in the summer of 2013, at a time when NYRA was under state control after it was revealed NYRA had been overtaxing its bettors on certain wagers for a 15-month period.
Kay, a racing novice, in 2014 helped NYRA show its first operating profit in 13 years, in part due to cost-cutting and revenue-enhancing programs he implemented. NYRA has shown a profit from racing operations for all five years of his tenure, Kay wrote to his employees last month, listing that as one the company's major accomplishments under his leadership.
Kay had the good fortune to be the head of NYRA during a time when two Triple Crowns were successfully completed – American Pharoah in 2015 and Justify in 2018. Under Kay, NYRA created the Belmont Stakes Racing Festival, three days of high-class racing that culminated with a 10-stakes program on Belmont Stakes Day.
Also under Kay, NYRA enhanced its advance-deposit wagering platform, NYRA Bets, while also helping to expand NYRA's presence on television through deals with Fox Sports 2 and other regional cable networks. In 2019, there will be nearly 500 hours of televised racing from NYRA tracks.
In 2017, Gov. Andrew Cuomo returned NYRA to private control and Kay was appointed to the board of directors.
Kay's resignation comes a critical time for NYRA. Kay has talked about a major renovation of Belmont Park that was to coincide with the construction of a new arena for the NHL's New York Islanders on the grounds at Belmont. Construction on the arena is expected to begin in May and perhaps force changes to NYRA's racing schedule that could include the extension by one week of the Saratoga summer meet while potentially forcing moving Belmont's fall meet to Aqueduct.
NYRA has yet to release a racing schedule beyond the Aqueduct spring meet, which ends April 20.
Kay had hoped to do a significant modernization to all four floors of the Belmont grandstand to create congregational space on the first floor, a simulcasting facility similar to Longshots at Aqueduct, restaurants that overlook the paddock and the racetrack as well as rooms or areas that outside companies might want to use for private functions.
"I'm trying to create places where people of different ages and different demographics would have a great time and either renew their love affair of horse racing or fall in love with horse racing for the first time," Kay said in an April 2018 interview with Daily Racing Form.
Kay, a strong proponent of introducing night racing at Belmont Park in the future, also sought a complete renovation to Belmont's main track and two turf courses as well as the installation of a synthetic surface so Belmont could conduct winter racing.
Kay had not yet submitted his redevelopment plans to the full NYRA board or to the State Gaming Commission for approval. However, last month, Cuomo signed a bill that would allow NYRA to obtain low-cost financing for the project through the New York State Dormitory Authority.
Kay certainly put his imprint on Saratoga. Kay created the Saratoga Walk of Fame – basically across the street from the National Museum of Racing and Hall of Fame – which honors legends of New York racing. In 2018, NYRA renovated a section at the end of the grandstand, known as "The Stretch."
Currently, NYRA is building the 1863 Club, a three-story, climate-controlled structure that replaces the "At the Rail" Pavilion and other temporary structures located on the clubhouse turn.
In a July 2018 interview with DRF, Kay expressed a desire to remain at NYRA for at least another five years.
"When you think of all the progress we've made over the last five years I am very excited and want to be part of the progress we're going to have over the next five years," Kay said.
He will not get that chance.