David O'Rourke named interim CEO after Chris Kay's Feb. 23 resignation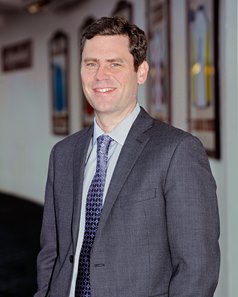 David O'Rourke
Courtesy BloodHorse.com
There's never a good time for a company to abruptly lose its top management official.
For the New York Racing Association, the Jan. 23 announcement that Chris Kay had unexpectedly submitted his resignation as president and CEO came at an especially crucial time for the organization.
With Kay's exit, David O'Rourke, NYRA's senior vice president and chief revenue officer, was named interim CEO by the board of directors, putting him in charge of the nation's premier racing circuit that realized $2.1 billion in all-sources handle in 2018, and making him the central figure in the implementation of plans that will shape NYRA's future.
The 2019 racing dates and stakes schedules for Belmont Park's spring meet and Saratoga Race Course, as well as the Belmont and Aqueduct Racetrack fall meets, have not been finalized. The timetable for construction at Belmont, which includes renovation of the facility and racing surfaces, has yet to be announced. And, the clock is ticking if NYRA hopes work is completed on the New York Islanders' arena by the 2021 opening.
"It's a rough time to have a new president," said Pat Kelly, a longtime board member of the New York Thoroughbred Horsemen's Association and a New York-based trainer for about 40 years. "Nobody has seen any of the construction plans. It's all general. The only thing we know for sure is that the hockey arena has to be finished by 2021 and they are putting in a third railroad line to Floral Park so neighborhood people there are upset.
"It's an interesting situation. They have to get all that construction done in two years and it's no small order. We also don't know about other things—like is Aqueduct going to close? Everyone got blindsided by this and we'll see what happens next."
Although there was no official announcement from NYRA detailing reasons for Kay's departure after 5 1/2 years at the helm, published reports claim Kay violated company policy by using NYRA employees to work on his home in Saratoga Springs, N.Y. One source with knowledge of the situation said that was "on the right track."
Going forward, some changes already seem to be locked in. NYRA's board of directors favors expanding the length of the upcoming Saratoga meet, moving the starting date to July 11 and cutting the bulk of the meet from six days a week to five, with Monday and Tuesday dark days. NYRA officials say the Saratoga dates have yet to receive final approval from outside groups and agencies, such as the New York State Gaming Commission, but they did not dispute the report or voice any complaints about the new format.
Sources also say Belmont Park is expected to open for its fall meet in its traditional spot, less than a week after the close of the Saratoga meet, though the latter part of the meet could be shifted to Aqueduct and there might be later post times to accommodate construction.
Yet even with Saratoga removed from the to-do list, there are still important decisions to be made and horsemen are eager to see how everything will play out in the coming months.
"It will be interesting to see what direction they go in," said trainer Todd Pletcher, the sport's all-time earnings leader and winner of more than 35 NYRA training titles. "It's a difficult and often thankless job to be the president, but there are some important issues—like how long are they going to race at Saratoga? And how long will they not race at Belmont?
"The one thing to me, is that the priorities for anyone operating NYRA is satisfying owners and customers. Ultimately if you can succeed in those areas, everything else will fall into place."
Kelly said maintaining a first-class racing product needs to be job No. 1 for a new leader.
"We have to keep the racing top-notch because as NYRA goes, the industry goes," he said. "They can have restaurants and whatever buildings they bring in, but racing is the important engine for everything."
Rudy Rodriguez, the leading trainer at the current Aqueduct meet, believes field size especially in winter, is a key issue.
"There's a lot of priorities, but they have to try to keep more horses around. Otherwise, they are doing an excellent job with the tracks, especially with the cold weather they are getting," Rodriguez said. "They are doing a lot of good things for the backstretch people and that's a good cause. They are approaching things the right way and they are doing an excellent job in some areas. I hope they keep it up."
When Kay arrived at NYRA in 2013, it was mired in a political mess. The organization was under state control since 2012 and operating at a deficit. Kay lacked experience in horse racing, but during his tenure NYRA became profitable and again became a private entity.
Now in a different climate, some horsemen would like to see a NYRA boss with a better understanding of issues critical to owners and trainers, such as workers' compensation.
"I think the owners and trainers would appreciate it if it's a horse guy running NYRA," said Sol Kumin, a partner in Triple Crown winner Justify  who had shares of horses that won 24 grade 1 stakes in 2018. "It's not a necessity, but it gives us someone you can relate to and who knows all the ins and outs of the sport. We need someone who is not afraid to make changes. There's been a lot of status quo and they can use someone who would not be afraid to mix it up."
Pletcher sees the value in a well-rounded leader.
"It's a multi-faceted business. Running NYRA means you have to know a lot about customer service, racing, government, politics. It's a difficult position because you are responsible for so many areas of expertise," Pletcher said. "There's also various departments underneath the president where there should be people who are experts in that area. I'm not sure the president has to be someone who necessarily has to know how to write a condition book. You have people to do that for you. Any good manager has to delegate some authority to people that specialize in their areas."
As for O'Rourke, how NYRA navigates some choppy waters in the months ahead should go a long way toward determining if "interim" is removed from his title.
He has valuable experience in racing operations, having joined NYRA in 2008 as the director of financial planning. He was promoted to chief revenue officer in 2011 and has played a key role in the creation of NYRABets, NYRA's expanded television presence, and capital projects.
"I've heard a lot of good things about Dave and that he knows a lot about racing," Kumin said. "Whether he's the guy or they get someone like him, it would be great."
Kelly voiced support for O'Rourke, stressing that NYRA desperately needs continuity at this point.
"Let's hope they give Dave a chance to run the show," Kelly said. "Who knows, maybe he's exactly what we need. Right now, we need some continuity because the timing is so tight. There's so much going on. Dave should get a chance to captain the ship and we'll get to see what type of course he can chart."
Given the surprising turn of events in recent weeks, there's no doubt a straight course would be most welcomed.