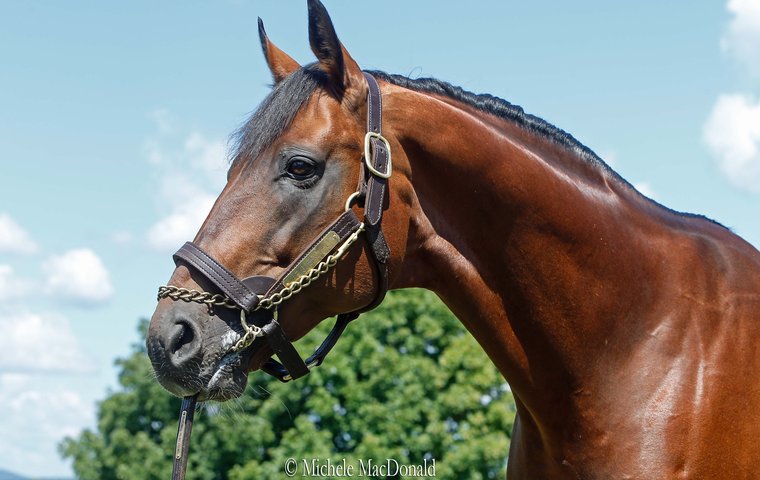 Just as a bird takes to wing, he is suddenly in the air, all rippling muscles and streaming black mane against blue sky. Neck arched, ears upright, front legs extended toward the heavens, he is a breathtaking vision of power and grace, his bay body bronzed by gentle morning light.
And then, with the same quick yet effortless movement, he returns to ground, eyes afire with a mischievous kind of delight.
Now 11, Big Brown clearly has lost none of the energy that propelled him through a magical yet ultimately star-crossed Triple Crown campaign in 2008. From the time he emerges from his stall at Dutchess Views Farm in Pine Plains, New York, he radiates vitality and that electric, yet indefinable quality that stokes the hearts of champions.
"He likes getting up on his hind legs. We know this, so we try not to give him the opportunity," said soft-spoken Michael Lischin, who owns and manages Dutchess Views with his wife, Anya Sheckley. Lischin, an attorney with more than 30 years of experience in the Thoroughbred business, chuckles with a sense of appreciation of this force of nature that arrived at his farm on Christmas Eve in 2014.
Soon thereafter, a columnist and photographer for the Wall Street Journal came to report on this major event. Making his trademark statement, Big Brown reared almost vertically as he was paraded, giving visual emphasis in a resulting photo to the significance of a Kentucky and Preakness Stakes winner standing in the Empire State.
Remarkable individual
"For the most part, he'll stand and pose and he's pretty easy to handle," Lischin observed. "But he's very athletic, so most people who come and see him are very impressed."
Getting close to Big Brown is essential to comprehending what a remarkable individual he always has been. His racing career soared past so rapidly and in such a torrent of headlines and emotional backlashes to his controversial trainer, Rick Dutrow Jr., and some of his owners that the horse himself was almost obscured.
Hall of Fame trainer Bob Baffert, who conditions Big Brown's multiple Grade 1-winning son Dortmund, is among those who have pointed out what others may have forgotten.
"Big Brown was one of the most impressive racehorses I have seen in the last 10 years," Baffert declared as he was conditioning American Pharoah for the Triple Crown.
For Andrew Cohen, whose own life story could fill a book, Big Brown is even more than a superstar runner. Cohen left college as a teenager to do "grunt work", including making boxes, for a Wall Street firm and worked his way up until he eventually founded his own New York investment company. But Cohen sold his business in 2011 to focus on his racing and breeding interests, particularly Big Brown and another Grade 1-winning stallion, Frost Giant.
Kind nature
Cohen was relatively new to the sport when he was invited to buy an interest in Big Brown before his Triple Crown campaign. Everything Cohen experienced with the colt, who did what no other horse in history has been able to accomplish when he handily won the Kentucky Derby from post 20 in the starting gate, bonded him to Big Brown, whose kind nature charmed him as much as his speed.
"He was like a puppy dog," Cohen recalled, remembering how young children could safely go into Big Brown's stall and pet him. "During the Triple Crown, I would go and visit him in the middle of the night and take him candy. You felt like you could bring him into your living room and cuddle up with him."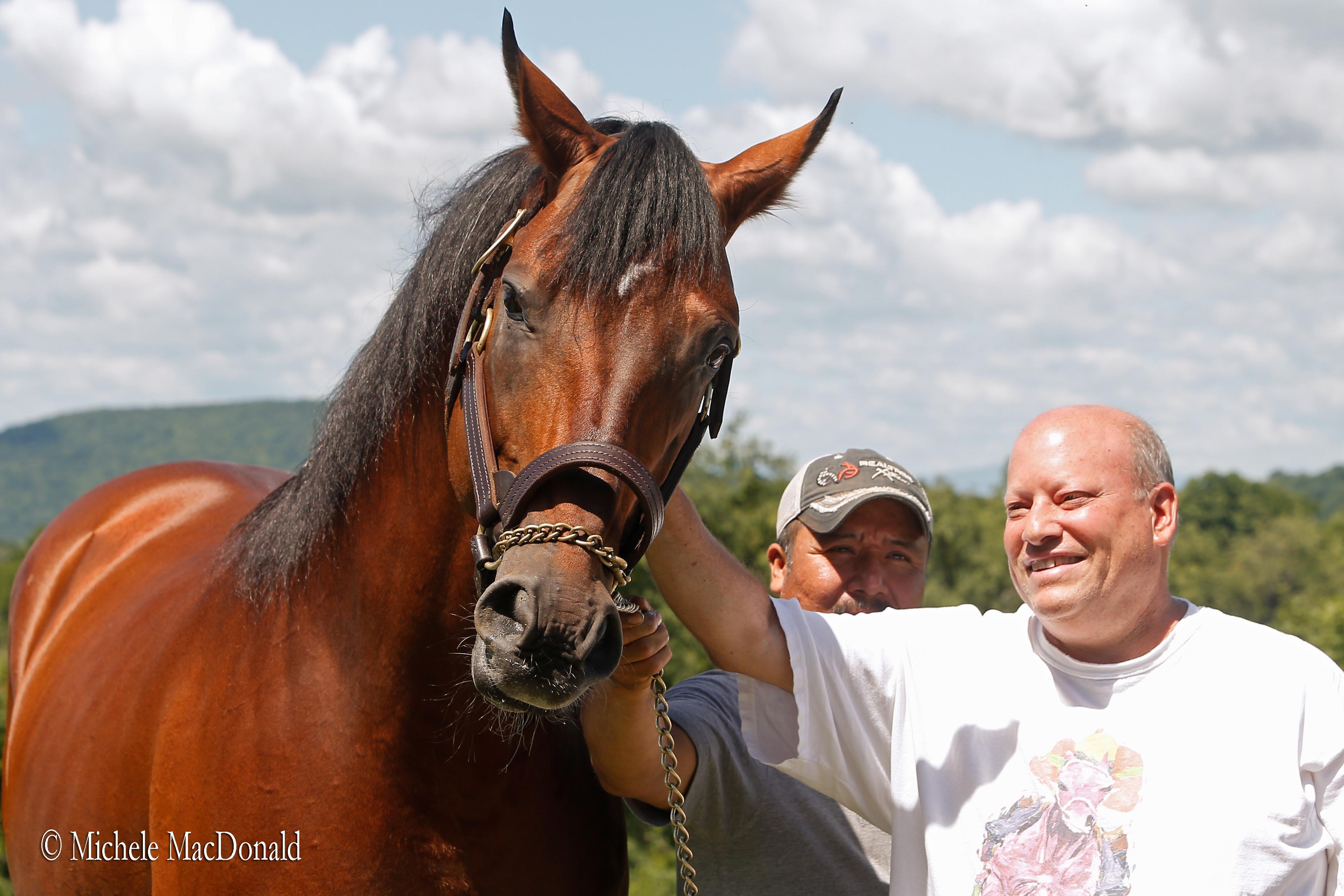 But, when he was running, Big Brown was nothing less than what racetrackers admiringly refer to as "a monster".
Bred by Gary Knapp's Monticule in Kentucky in a mating of the winning Nureyev mare Mien to Claiborne Farm's Boundary, Big Brown is a genetic work of classic art, with his pedigree combining double lines of three phenomenal racehorses, all of whom won major races over 1 ¼ miles. He is 3×3 to champion and leading international sire Northern Dancer, 3×4 to Horse of the Year and influential sire Damascus and 4×5 to Horse of the Year and leading sire Round Table. His female family already had produced a champion in Hidden Lake.
Sold by Monticule for $60,000 to Eddie Woods, agent, at the 2006 Fasig-Tipton Kentucky October yearling sale, the handsome bay with a distinctive white spot near his left shoulder was resold as a juvenile at Keeneland for $190,000 to Paul Pompa Jr. A trucking executive who held a contract with United Parcel Service, Pompa named the colt Big Brown, the nickname for the delivery company.
Stunning debut
Trained initially by Patrick Reynolds, Big Brown was unveiled on September 3, 2007, in a 1 1/6-mile maiden special weight event on turf at Saratoga Race Course.
Sprinting out of the gate, Big Brown "opened a clear advantage in the early stages … shook loose on the turn, opened a wide gap in upper stretch and was never threatened," according to the official chart. In the comments section was the simple statement: "Ran away when roused."
Big Brown hit the finish line 11 ¼ lengths in front, boldly announcing himself as a runner who could be very special.
Besieged with interest in the colt, Pompa sold 75 percent for about $3 million, as reported at the time, to International Equine Acquisitions Holdings. A large group of owners, including Cohen and his longtime friend, Gary Tolchin, took shape, and the colt was transferred to Dutrow at the direction of IEAH's Michael Iavarone.
Problems with quarter cracks in his front feet kept Big Brown from racing again until the following March at Gulfstream Park, when he was supposed to run in a one-mile allowance. The race was taken off the grass, however, and Dutrow considered scratching, Cohen recalled.
But Big Brown went forward with Kent Desormeaux aboard, and what happened next was even more impressive than his debut. Racing just off a quick early pace, Big Brown bounded to the lead going into the stretch and left rivals gasping, hitting the finish line 12 ¾ lengths in front in 1:35.66.
Raucous celebration
"I remember Kent getting off and saying this is the best horse I've ever ridden in my life," said Cohen. That was a big statement, considering the Hall of Fame jockey had steered home Kentucky Derby winner Fusaichi Pegasus in 2000 after just missing completing a Triple Crown in 1998, when his Derby and Preakness winner Real Quiet was nipped by a nose at the Belmont Stakes finish line.
The months that followed Big Brown's allowance win still are vivid in Cohen's memory. As a co-owner of eventual 2008 U.S. sprint champion Benny The Bull, he traveled to Dubai and hoisted the trophy for the $2 million Dubai Golden Shaheen at Nad al Sheba in a raucous victory celebration.
Unable to see Big Brown run in the Florida Derby that same day due to a lack of television coverage in the United Arab Emirates, Cohen had to listen to the race call over a telephone. Big Brown started as the favorite, bounced out of the gate, set a quick pace of :22.76 and :45.83 and romped home by five lengths in 1:48.16, fastest time for the 1 1/8 miles in over a decade.
"That was so exciting because knew we were going to the Kentucky Derby," Cohen said, describing subsequent celebrations that went on for about a week.
Big Brown was undefeated and unchallenged, winning his first three races by a combined 29 lengths, typically galloping out with his ears pricked. Cohen was undaunted when the colt drew post 20 for the Kentucky Derby, despite the fact that no horse had ever won the Roses from the far outside since the advent of starting gates.
Even more impressive
"We knew he could get out of the gate and get position, and he didn't disappoint us," Cohen recalled. "We had all the confidence in the world in Big Brown."
After surging to the lead with a rolling rally from sixth, going five-wide around the far turn, Big Brown won by 4 ¾ lengths. "And he did it so within himself. He truly was in a gallop to the quarter pole," Desormeaux said.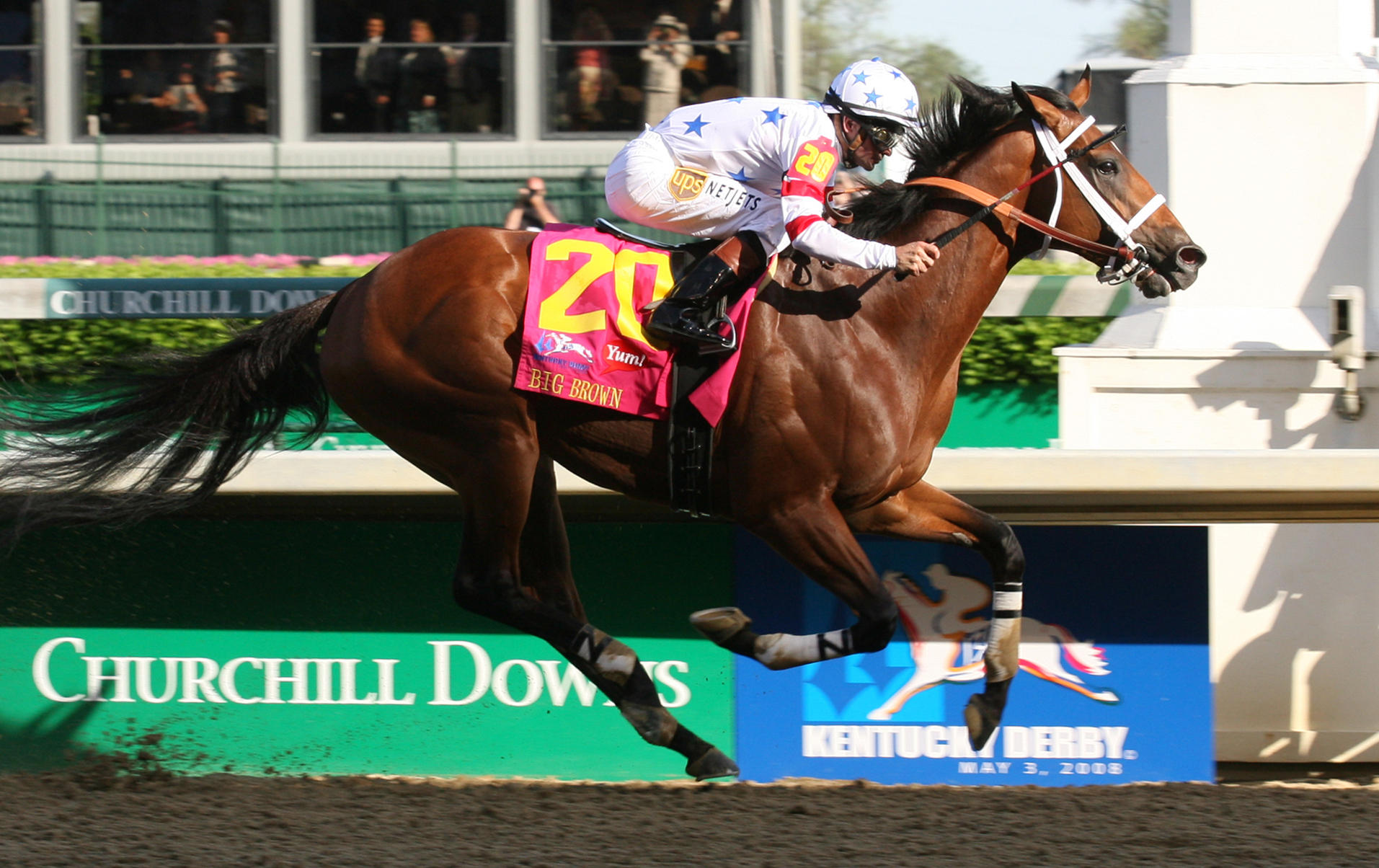 The Preakness was perhaps even more impressive.
Announcer Tom Durkin, watching the colt again move five-wide and soar down the stretch, called out that "Big Brown's doing it again — he's disappearing from the field!"
History shows that Big Brown is only the fourth horse ever to run unbeaten through the Derby and Preakness.
After the race, it was announced that Three Chimneys Farm in Kentucky would stand Big Brown on his retirement in a deal that reportedly valued the horse at $50 million, although no details were released and that kind of money did not change hands. Some of the owners, including Cohen, retained interests in the colt.
Negative publicity
"At the time, I was just in it for the ride. I didn't know enough to get it all reviewed," Cohen said of the stud deal. "Everyone's expectations were, with the way Big Brown was towering over the others, that he could swing through the Triple Crown."
Despite the euphoria, all was not sublime.
Before the Derby, Dutrow had casually revealed that he gave all his horses a monthly dose of Winstrol, an anabolic steroid product. While the substance was perfectly legal in most American racing jurisdictions at the time and widely used, his candor set off a firestorm of negative publicity, further enflamed by the tragic breakdown of the Derby runner-up Eight Belles.
After the Preakness, Big Brown developed an abscess and then another quarter crack in his left front foot, which sidelined him from training for three days. His connections said they were not worried, but, on the day of the Belmont Stakes, the weather turned up the heat on all of them. It was 95 degrees and, under the policy of the New York Racing Association (NYRA) at the time, Big Brown and the other Belmont starters had to spend much of the day in a detention barn, away from the comfort of familiar surroundings.
A camera focused on Big Brown showed him kicking the wall of the detention barn stall and jumping around, uncharacteristically agitated. By the time he reached the paddock hours later, he displayed little of his usual eagerness and walked with his head down and his eyes dull.
'No gas left in the tank'
There was never really any explanation of what happened in the Belmont.
Big Brown broke in a tangle, was wrestled off the pace by Desormeaux, bumped another horse, and eventually was pulled up in the stretch, with the jockey saying there was "no gas left in the tank". Photos showed Big Brown's right hind shoe was hanging loose only 200 yards or so into the race.
The result left the crowd of 94,476 — already drained by the heat and frustrated by broken plumbing throughout the Belmont Park grandstand — totally deflated. Pace-setting winner Da' Tara had only previously won a maiden event and never won another race in his career.
"I guess we'll always wonder what really happened," Cohen said. "I heard he was kicking the wall in the (detention barn) stall, and that wasn't Big Brown — I never saw him act up. And it was about 100 degrees. I guess he just wasn't himself that day."
A few years later, after a number of trainers complained about their horses' routines being upset after the required move to a different barn prior to the Belmont Stakes, NYRA revised its policy and allowed horses to stay in their own quarters. The detention barn may have been the key factor in Big Brown not sweeping the Triple Crown.
Mutterings over the stud fee
Big Brown went on to win the Haskell Invitational Stakes and the Monmouth Stakes on grass.
In October, while working on turf at Aqueduct with his stablemate, 2007 Breeders' Cup Mile winner Kip Deville, who also was co-owned by Cohen, Big Brown tore off a chunk off the back of his right front foot. In that one fateful stride in which he overreached, causing the injury, hopes were dashed that he would take on reigning Horse of the Year Curlin in the Breeders' Cup Classic.
Time was called on Big Brown's brilliant but brief career, with his record showing eight starts, seven wins and $3,614,500 in earnings. He later was crowned champion 3-year-old male.
Under the deal negotiated by IEAH and signed as the group was rushing to the Preakness, Big Brown went to stud at Three Chimneys in 2009, a year after the full impact of the global economic crash that deflated North America's racing and breeding business, along with most other investment assets. His initial stud fee was set at $65,000, which breeders muttered was just too high in the fractured economy.
The dark clouds of the crash that hovered over the beginning of Big Brown's stud career were accompanied by swirling shadows of questions about financial management that dogged Iavarone and some of his IEAH associates. Dutrow also sparked increasing criticism, and in 2011 was suspended by New York authorities for 10 years for a number of racing rule infractions.
Caught in the wake
With all those dynamics in play, Big Brown did not gain enthusiastic support from breeders. It was a perfect storm of darkness, amplified by the fact that Big Brown's sire, the Danzig stallion Boundary, was not viewed as commercially appealing.
In 2011, the New York Times ran a story headlined 'Out to Stud, Big Brown Carries the Burden of his Human Connections', focusing on questions about IEAH's finances and Dutrow's suspension. Big Brown was caught in that wake, "perhaps an overlooked (stallion), through no fault of his own," the story stated.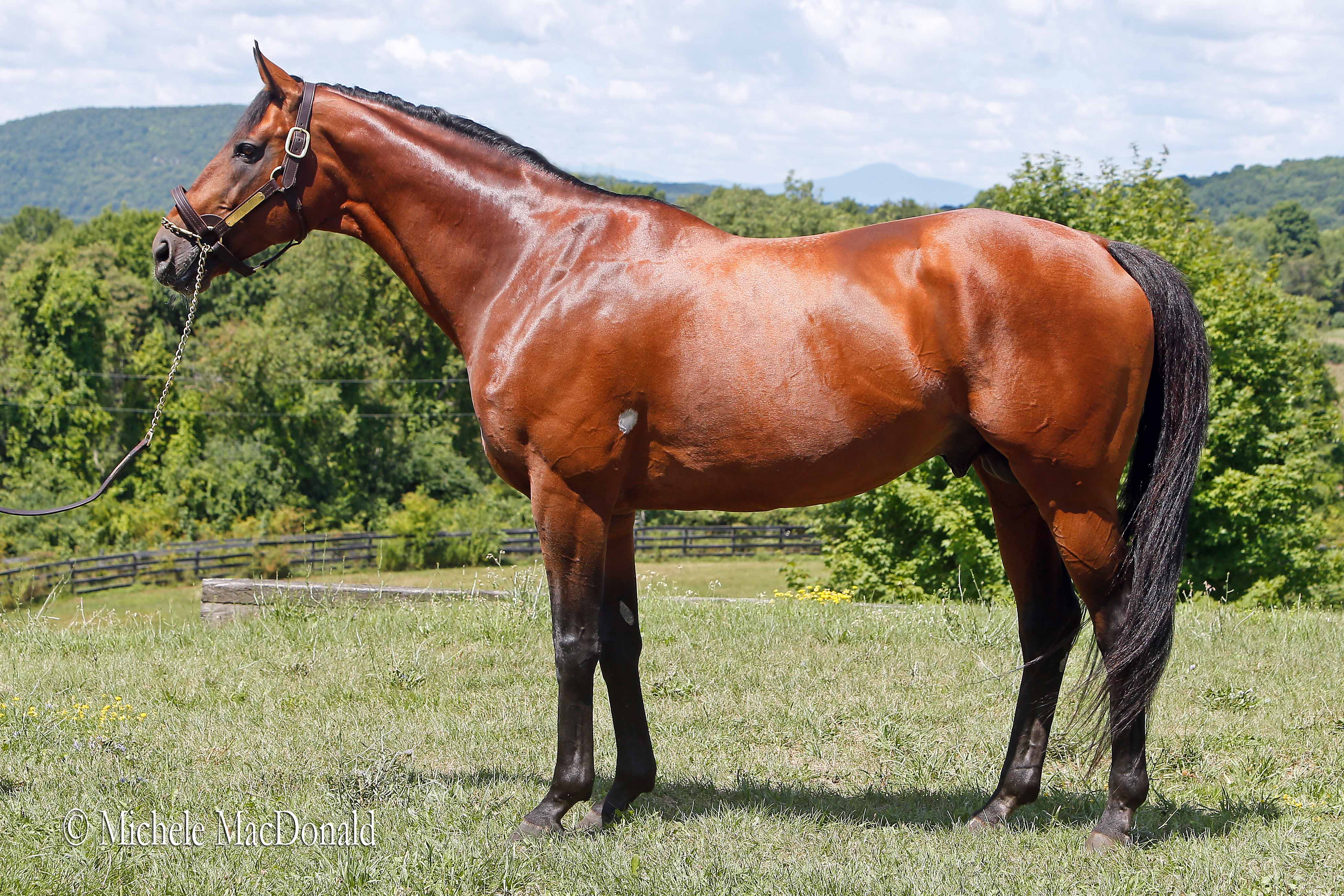 Cohen — co-breeder of one of Big Brown's best runners from his first crop, Apollo Sonic, who finished a rousing third in the $5.2 million, G1 Tokyo Yushun (Japanese Derby) at 1 ½ miles in Tokyo — decided he wanted to give Big Brown a new beginning at stud.
"After the first few years, it became obvious that Kentucky didn't really embrace Big Brown and he wasn't appreciated the way he should be," said Cohen, who joined with Tolchin in devising a plan to buy out other investors and move the horse to New York.
"I missed him. I didn't get to see him as often when he was in Kentucky," added Cohen, who has homes in New Jersey and Florida. "And I had all the confidence in the world he would do well."
The Dortmund factor
After Cohen and Tolchin reached an agreement to acquire majority ownership and move Big Brown, Dortmund won his debut and quickly added the G1 Los Alamitos Futurity prior to a victory the following spring in the Santa Anita Derby and a gallant third-place effort behind American Pharoah in the Kentucky Derby.
"It's a shame Dortmund wasn't in his first crop. That would have probably changed everything," Cohen observed.
When Big Brown arrived at Dutchess Views, about 1 ½ hours south of Saratoga Springs, Lischin found him a bit lean and excitable after traveling from Australian shuttle duty at Vinery Stud. After about two weeks on the 200 tranquil acres, Big Brown relaxed — and breeders and fans started calling.
"It was kind of lucky timing as Dortmund was just starting to get good, and Big Brown just kind of sold himself with the way he looks," Lischin said. "So, there was no pressure on us other than handling all the mares and fitting everyone in."
Big Brown covered 138 mares in his first New York season in 2015, and he is just as adept at his current job as he was in racing.
"He's perfect, from a stallion manager's point of view," Lischin said. "He's easy to handle, cooperative and fairly efficient, and he's got very good fertility."
Devoted fans
Not only have New York breeders supported him, but some from Kentucky, including Eclipse Award winners Ken and Sarah Ramsey and Lane's End, have sent mares to Big Brown at Dutchess Views.
And, despite all the controversy during his racing career, he has a legion of devoted fans.
"We get lots of people calling and asking how he's doing. We have people coming to see him at least three times a month and they come from all over the place," Lischin said. "And he gets letters from people and Christmas and Easter cards, and they send peppermints and other treats. He gets an unbelievable number of cards around the Kentucky Derby, and people say they love him and are thankful that we are taking care of him.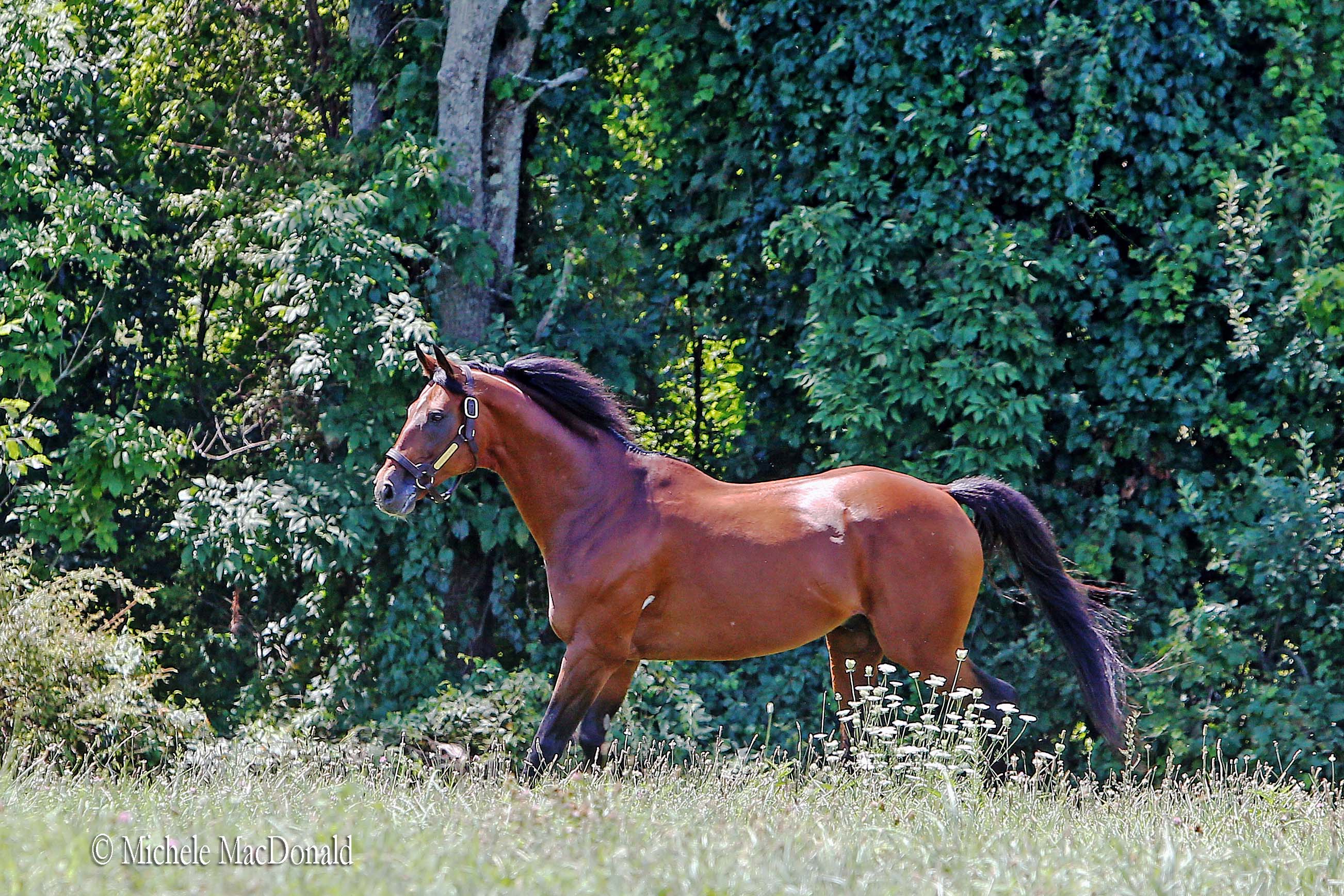 "We've been here for over 20 years and we've never gotten anything like (the response to Big Brown) before," he added. "He was just so popular as a racehorse."
Among his visitors is Cohen, and, on one visit this year, Big Brown quickly acknowledged his longtime friend with a soft nuzzle. It is due to Cohen's faith in the horse that Big Brown is in New York, where in 2015 he led all stallions based in the state with progeny earnings of $5,339,210.
He has climbed to the 35th ranked sire in the U.S. under the TRC Global Rankings and looks sure to rise much higher.
More special times ahead
"I just felt so strongly about Big Brown and that's why I wanted to bring him to New York. He'll always be close by and I can see him," said Cohen, who also oversees the stud careers of his Giant's Causeway-sired full brothers Frost Giant, who stands at Keane Stud in Amenia, New York, and Heavy Breathing, who romps in a paddock next to Big Brown's at Dutchess Views.
Cohen conceded that his experiences in the turbulent life of Big Brown have included some roller-coaster downs, as well as ups. But the ride has been the experience of his lifetime.
"You could never even imagine it. I knew very little about the game at the time of the Triple Crown, but now I know how really special it all was," he said.
Both Cohen and Lischin believe there will be more special times ahead for Big Brown through the foals he is siring in New York. "You haven't heard the last of Big Brown," Cohen declared.
Balance and athleticism
"It's almost certain that his progeny record will improve significantly," Lischin said, pointing out that Big Brown's New York-bred foals will race for the enhanced purses offered under the New York breeding program. His first group of those foals were born this year, and Big Brown consistently passes along his balance and athleticism, he said.
A medium-sized, fluid moving horse standing about 16.1, Big Brown has thrived in his daily routine in the picturesque Hudson River Valley.
During breeding season, he covers mares up to four times a day, and year-round he is turned out after breakfast each morning. Big Brown tends to be so energized about getting to his tree-lined hilltop paddock that, on many days, he exuberantly rears during the short journey from the stallion barn.
Once released, he stretches his legs and skims the ground, tail streaming in the breeze and nostrils flared — a magnificent creature, unshackled from any stain of association with some of those around him in the past.
"If you see Big Brown, you love him. He stands out, as he always has. If you put him out with 100 other horses, he would stand out," Cohen said. "He seems to really be enjoying his life at Dutchess Views, and that's the way it should be. He earned it."