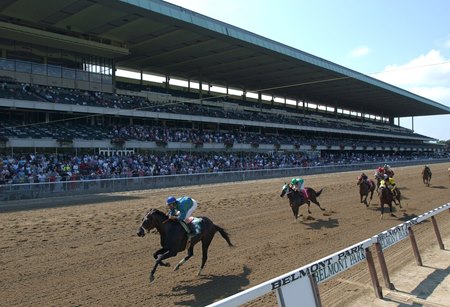 Racing Fan Advisory Council was created in 2011.
New York lawmakers want to codify in state statute the existence of a panel that advises state officials on racing matters from a fan's perspective.
The New York Senate approved the matter May 29 by a vote of 60-0.
The Racing Fan Advisory Council was created in 2011 via a board resolution by the NYS Racing and Wagering Board, the predecessor agency to the current gaming commission. Now, the chairs of the Senate and Assembly racing and wagering committees want to see the power of state law extend the life of the council beyond just an administrative procedural action.
"We want to make sure it doesn't end at this point," Sen. Joseph Addabbo, a Queens Democrat, said recently.
Addabbo and Assemblyman Gary Pretlow, a Westchester County Democrat, have sponsored a same-as bill to make permanent a five-member panel with its stated mission being to expand "the growth of the fan base related to the sport of horse racing." The bill provides for five members, all appointed by the executive director of the state gaming commission; two of the members will come from recommendations by the chairs of the Senate and Assembly racing and wagering committees.
Members appointed to the council must have a "long-term involvement and interest in, knowledge of, and devotion to the sport of horse racing as fans of the sport." Lobbyists, officers of tracks or OTBs, and officers and paid employees of the gaming commission are banned from serving. Terms last for five years.
Besides helping to come up with ways to grow the horse racing industry, the council is charged with recommending procedures to "ensure that the opinion of the fan is a central part of the regulation of horse racing" and to advise the gaming commission on ways to attract more fans to all tracks and OTBs in the state.
The panel members will have access to tracks during non-racing hours. They are also asked to help the state come up with racing-related regulations and to "recommend to the commission further procedures to make steward and presiding judge actions that impact the betting public more transparent."
The council has three of its five slots filled: chairman Craig Alfred, an appointee of the gaming commission; Michael Amo, a Senate appointee; and Michael Mills, an Assembly appointee. The other two posts have been vacant since the departure of Alan Carter after he retired from the National Museum of Racing and Kelly Young when she was appointed executive director of the Agriculture and New York State Horse Breeding Development Fund.
The measure passed the Senate in 2017 and 2018 but stalled in the Assembly. This year's legislative session ends June 19.