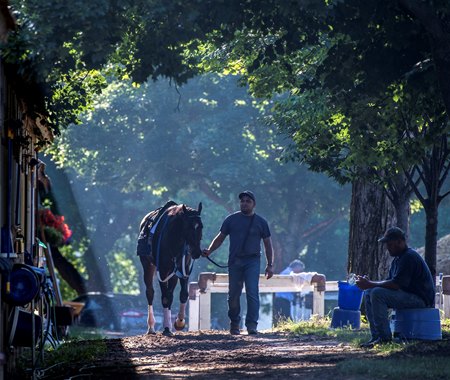 Hearing on welfare of racehorses held June 5 in Albany
With racehorse deaths representing an "existential threat" to the future of the industry, New York state's equine medical director told state lawmakers that training injuries and deaths, not just those occurring during a race, are of concern for regulators and an area to focus on in the future.
"There's definitely going to be more regulation of training," Dr. Scott Palmer told two state Senate committees that held a hearing in Albany June 5 to consider issues surrounding the welfare of Thoroughbred racehorses.
The panels—the Senate racing, gaming and wagering committee and the domestic animal welfare committee—took testimony from state officials, veterinarians, a humane association, animal welfare groups, breeders, horsemen, and the New York Racing Association.
"There is no single issue more critical to the future of Thoroughbred horse racing than the health and welfare of the horses competing at racetracks in New York and around the country," NYRA president David O'Rourke said in written testimony submitted to the committees.
But one equine veterinarian was harshly critical of what she described to lawmakers as a pervasive problem within the racing industry.
"What goes on at these racetracks is … that veterinarians have completely abdicated their authority as medical professionals and their duties," said Dr. Sheila Lyons, who has also testified before Congress on equine welfare issues.
"What they do is simply deliver drugs at the trainers' request," Lyons said, adding that horses coming into New York state can expect to have a "kitchen sink of drugs" given to them. Lyons is founder and director of the American College of Veterinary Sports Medicine and Rehabilitation.
Lyons called on lawmakers to act against what she called an "ongoing flagrant violation of standard of care" by some equine veterinarians.
Palmer, the state's equine medical director, is also the chair of an equine health and safety task force created by the state in the wake of a high number of racehorse deaths at Aqueduct in its 2011-12 winter meet.
After the rash of equine deaths at Santa Anita Park, Palmer said he is often asked how New York tracks can keep such a problem from happening. "The truth of the matter is it already happened in New York," he said of the 21 Aqueduct equine deaths earlier this decade.
But since 2012, Palmer said 39 separate health and safety recommendations were put in place at New York tracks, many of which have also since been adopted by tracks in the Mid-Atlantic region. The efforts touched on everything from changes to claiming rules, veterinarian practices, medication, racing surfaces, and weather conditions.
"The most important thing we learned … is that we do not have to accept a certain level of fatalities at a racetrack as the cost of business," Palmer said.
From 2011-18, Palmer said, equine deaths at New York Thoroughbred tracks declined 48%. In the Mid-Atlantic region, there has been a 32% drop in the catastrophic injury rate, the veterinarian told lawmakers.
He said the national equine fatality rate at tracks is 1.68 per 1,000 starts. In New York, he said, the rate is 1.29%.
Palmer said the challenge to additional oversight of equine training sessions is a lack of regulatory staff. "It's a logistical challenge," he said. He added a logical next step will be to improve the identification of horses that are at risk of future injuries.
Palmer said the 39 recommendations made by the equine safety task force in 2012 have all been adopted. The panel raised questions about what Palmer called the "enormous conflict of interest" that existed at NYRA to have the veterinarians placed under the corporation's racing department. He said there was also a "cultural change" at NYRA "to put the horse at the top of the list."
In its submitted testimony, the New York Thoroughbred Horsemen's Association focused on efforts over the past decade to find homes for retired Thoroughbreds through the Thoroughbred Aftercare Alliance and New York's Take the Lead program. Andy Belfiore, NYTHA's executive director, said 7,800 horses have been retrained, re-homed, or retired by TAA-accredited organizations since 2012. The Take the Lead program, which gets most of its funding through the NYTHA, has placed 468 horses and contributed nearly $800,000 toward their ongoing care.
Belfiore said the Take the Lead effort does all the legwork for owners and trainers to get retired horses to a TAA-accredited partner.
"Any funding mechanism created by the Legislature must support TAA-accredited organizations so we can be assured the funds are being used prudently and as intended to support New York's retired racehorses," Belfiore said.
NYRA's O'Rourke, who could not attend the hearing because of the upcoming Belmont Stakes Presented by NYRA Bets (G1), said in written testimony that the equine fatality rate at NYRA tracks fell to 1.20 per 1,000 starters in 2018 compared with a national average of 1.68%. In all, there were 18 equine deaths at the three tracks out of 14,987 starts.
The hearing touched on a variety of equine health and safety issues. John Holland, president of the Equine Welfare Alliance, said there have been some efforts to reduce Thoroughbreds going to slaughterhouses, but the problem remains, especially going to facilities in Mexico. One factor, he said, is an industry that produces more than 20,000 foals each year, many of which will never race. "We believe that the problem is beyond the reach of the industry to address, even with the most sincere effort," he said.
Lisa Molloy, executive director of ReRun, a Thoroughbred retraining and adoption program, praised racehorse aftercare efforts in New York. "The New York Thoroughbred industry has the most robust and successful aftercare program and makes the greatest effort to ensure retirement for its horses," she said in written testimony.