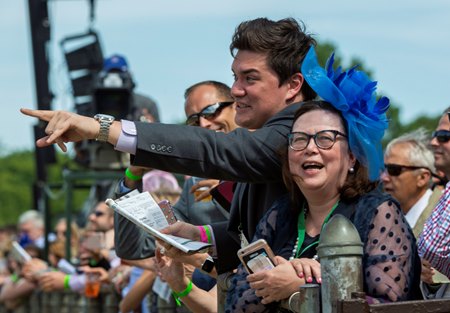 Wagering surpassed $102 million on strong Belmont Day card.
A blockbuster Belmont Stakes Day card June 8 at Belmont Park, highlighted by Sir Winston's victory in the 151st running of the $1.5 million Belmont Stakes Presented by NYRA Bets (G1), generated all-sources handle of $102,163,280, a NYRA record for a non-Triple Crown year.
The 2019 all-sources handle figure is an increase of 9.1% over 2017, the most recent year without a Triple Crown on the line, and an increase of 2.8% over the previous record for a non-Triple Crown year set in 2016.
On a perfect spring day in New York, on-track handle for the 13-race Belmont Stakes Day card, which included eight grade 1 races among 10 total stakes, was $11,852,506. All-sources handle on the 151st Belmont Stakes, carded as Race 11, was $53,237,527.
All-sources handle for the three-day Belmont Stakes Racing Festival, which featured 18 stakes and 33 races from Thursday through Saturday, June 6-8, was $131,858,886.
For the second time in its history, the Belmont Stakes offered separate pool wagering in Japan. The total for this non-commingled pool, which is not included in the all-sources number, was $4,362,972.
Paid attendance on Belmont Stakes Day was 56,217.
2019 Belmont Stakes Racing Festival Handle (ALL SOURCES ON NYRA RACES)
Thursday, June 6, 2019: $9,739,279
Friday, June 7, 2019: $19,956,327
BELMONT STAKES DAY, Saturday, June 8, 2019: $102,163,280
Belmont Stakes: $53,237,527
Belmont Stakes Racing Festival all-sources handle: $131,858,886
*2018 Belmont Stakes Racing Festival Handle (ALL SOURCES ON NYRA RACES)
Thursday, June 7: $10,180,697
Friday, June 8: $20,839,703
BELMONT STAKES DAY, June 9: $137,954,895
Belmont Stakes: $72,702,815
Belmont Stakes Racing Festival all-sources handle: $168,975,295
2017 Belmont Stakes Racing Festival handle (ALL SOURCES ON NYRA RACES)
Thursday, June 8: $10,309,890
Friday, June 9: $20,763,470
BELMONT STAKES DAY, June 10: $93,666,837
Belmont Stakes: $47,163,773
Belmont Stakes Racing Festival all-sources handle: $124,740,198
2016 Belmont Stakes Racing Festival Handle (ALL SOURCES ON NYRA RACES)
Thursday, June 9: $8,087,237
Friday, June 10: $15,310,023
BELMONT STAKES DAY, June 11: $99,419,099
Belmont Stakes: $52,188,416
Belmont Stakes Racing Festival all-sources handle: $122,816,359
*2015 Belmont Stakes Racing Festival handle (ALL SOURCES ON NYRA RACES)
Thursday, June 4: $7,082,133
Friday, June 5: $18,150,169
BELMONT STAKES DAY, June 6: $135,790,321
Belmont Stakes: $82,437,629
Belmont Stakes Racing Festival all-sources handle: $161,022,624
*Triple Crown year