Commission chair Brian O'Dwyer said key players need to "maximize" future of racing.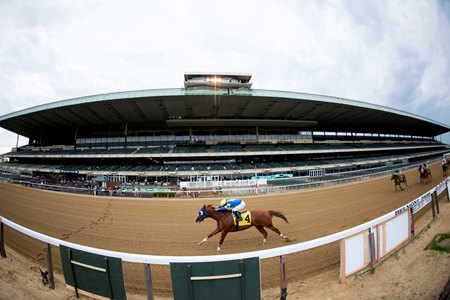 Racing at Belmont Park
Coglianese Photos
New York's top racing regulator said June 26 that he wants all key Thoroughbred stakeholders to meet this summer to discuss the future of Thoroughbred racing at Belmont Park and the Saratoga Race Course.
Brian O'Dwyer, chairman of the New York State Gaming Commission, said he anticipates holding a meeting of various stakeholders—from government officials to industry players—during the upcoming Saratoga summer meet "with a view to developing a comprehensive plan for the future" of both the upstate and Long Island racetracks.
The chairman's comments, at the end of a regularly scheduled agency board meeting Monday, come after the state this spring okayed a $455 million loan to the New York Racing Association for a major renovation project at Belmont. When completed, the plan calls for Aqueduct Racetrack to be closed—and eventually re-developed into some unknown commercial or residential space—and for downstate racing to be consolidated at Belmont.
The state financing plan for the NYRA Belmont project was challenged last week in a lawsuit supported by People for the Ethical Treatment of Animals, or PETA, which maintains the government loan to the private racing corporation violates the state's constitution.
O'Dwyer, in brief remarks, did not provide details about what specific issues he believes should be addressed in the stakeholders' gathering this summer at Saratoga. He said it has been a long time since the relationships between all the stakeholders involved in racing at NYRA tracks have been examined, adding the time is right for all the key players to consider how to "maximize" the future of racing at Saratoga and Belmont.
O'Dwyer said the date and specific agenda have not yet been set. He said the meeting would include regulators, state-run racing funds, breeders, trainers, jockeys, backstretch workers, unions, and others.
Separately, the Gaming Commission board unanimously approved a proposed state rule requiring a trainer's attending veterinarian to evaluate a Thoroughbred horse's fitness within 72 hours of a race or workout. The proposal, which will now go into a public comment period before its expected approval later this year, was passed without any commentary from the gaming commission.
Robert Williams, the agency's executive director, said while regulators don't believe veterinarians would permit an unfit horse to race or engage in a workout, the proposed rule would "further promote" the health and safety of racehorses.
The proposal would require an examination of all Thoroughbred horses within 72 hours of a race as a way in which declarations of a horse's fitness would be explicitly reported by a trainer's attending veterinarian. The plan keeps intact existing requirements for an examination by a racing association's veterinarian of horses on the day they are scheduled to race.