Belmont Stakes will likely have to find a temporary home after 2024 edition.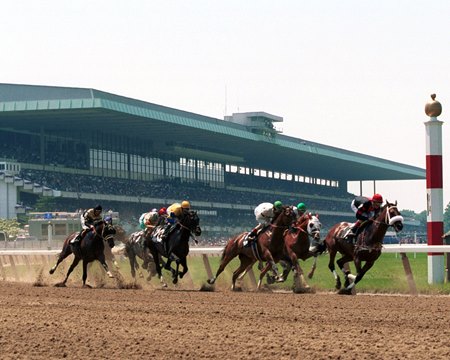 As trucks and backhoes moved around impressive amounts of dirt from the infield during the days leading up to this year's Belmont Stakes (G1), it provided a view that sandbox-loving toddlers would cherish.
While a large portion of the typically expansive, green infield has given way to brown dirt—some of which was being hauled out through a new tunnel that eventually will provide patrons access to the infield—this year's Belmont Stakes will move forward, as will next year's edition of the 1 1/2-mile classic.
After that 2024 running of the Belmont, a plan for the classic will be needed. That's when heavy demolition and construction will begin on the grandstand and frontside as the New York Racing Association moves forward with its $455 million plan to create a new Belmont Park that will have the needed amenities to host the biggest days in racing—the Belmont Stakes and Breeders' Cup World Championships—while being flexible enough to take over winter racing dates from Aqueduct Racetrack, offer an enjoyable atmosphere on routine race days, and even provide more green space to be an attractive park for the community.
In the short term, though, some contingency plans will need to be made. NYRA vice president for communications Pat McKenna said having Belmont Park host the Belmont Stakes in 2025 would be difficult because the construction to the frontside would be so extensive.
That means the race may have to be moved for at least one year. While Aqueduct is a possibility, McKenna noted that Saratoga Race Course also could be an option.
"Moving the Belmont Stakes to Saratoga Race Course in 2025 would be immensely exciting for New York racing, racing overall, and upstate New York," McKenna said, noting that officials will have to consider the positives and challenges of every option.
McKenna noted that Aqueduct also is an option. When the current Belmont Park facility was constructed from 1963-68, the Belmont Stakes moved to Aqueduct Racetrack in 1963-67. And last year Aqueduct played host to the Belmont Park fall meeting, dubbed the Belmont at the Big A meet. NYRA already has announced that Aqueduct again will host that meet this year.
After this year's spring-summer meet concludes July 9, plans call for a second tunnel to be built. It will connect the frontside to the infield. It will eventually provide access to the one-mile synthetic surface for horses and riders.
McKenna said in the next few months NYRA figures to have some more answers on such issues as the massive construction project moves forward. He said there will be an emphasis on flexibility with the new facility and its smaller footprint that won't feel so overwhelmingly large on typical race days but will be able to expand for crowds of 80,000-90,000 on Belmont Stakes and Breeders' Cup days.
After construction is completed at Belmont Park, including plans for a synthetic track inside the turf course, winter racing will shift from Aqueduct to Belmont. Aqueduct will then close for racing and the state will be able to move forward with any plans for that property.