The son of Kantharos stood his first five seasons in Florida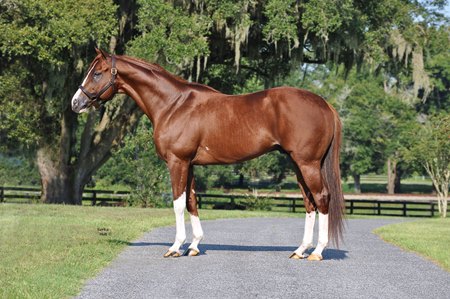 Bucchero
Serita Hult
Edited Press Release
Second-crop sire and multiple graded stakes winner Bucchero, the sire of juvenile stakes winners Book'em Danno  and Mattingly, will stand at McMahon of Saratoga Thoroughbreds for the 2024 breeding season for $7,500. After breeding 471 mares while standing for five seasons at Pleasant Acres Stallions in Florida, Bucchero will join a powerhouse New York stallion lineup alongside Central Banker  and Solomini.
"Traditionally, New York breeders have not had the opportunity to breed to a new stallion who was already on the upswing with proven runners on the ground, but that certainly should be changing in the future with the exceptional program New York has developed and actively improved," said Bucchero managing partner Harlan Malter. "We have broken the mold a bit with Bucchero, and we feel we are doing it again with our move to New York."
Bucchero, an 11-year-old son of Kantharos, has sired three stakes winners and nine stakes-placed horses from 83 starters. Bucchero is the sire of 51 winners, a percentage of 61% that is in the top three for his sire class among stallions with 50 or more runners and higher than class leaders Justify and Good Magic.
Bucchero's current 2-year-old progeny earnings would make him the leading juvenile sire in New York, and his total 2023 progeny earnings of $2,291,021 would make him the third-leading sire overall in the state behind Central Banker and Tourist.
"We are thrilled to bring Bucchero to McMahon and the New York program as we feel Bucchero is built for a program like this," said John McMahon. "He has shown he produces fast, precocious and, most importantly for New York breeders going forward, runners that can win on anything."
Led by stakes-placed Shards, who sold for $175,000 at the 2023 Ocala Breeders' Sales March 2-Year-Olds in Training Sale, Bucchero has excelled in the 2-year-old market. Shards finished fifth Nov. 3 in the Breeders' Cup Juvenile Turf Sprint (G1T). From a $5,000 stud fee, Bucchero averaged $48,595 from 21 juveniles sold in 2022 and had a 2023 average of $51,133 from 30 sold.
Success with Bucchero first runners had several trainers coming back. Joe Orseno, trainer of first-crop stakes winner Beauty of the Sea and second-crop stakes winner Mattingly (earned Equibase Speed Figures of 89 and 88 in his last two stakes starts, respectively), said: "I have now trained eight of them and they do nothing but run. Mattingly is a perfect example, a stakes winner on synthetic, stakes-placed short on the turf and seven furlongs on dirt, and I am now pointing him to the $300,000 In Reality Stakes going 1 1/16 miles on the dirt. They are fast and smart, versatile, and racy."
Malter, who campaigned Bucchero along with the current ownership group, said, "All of us involved with Bucchero started as small breeders looking to survive in a very difficult market segment. Bucchero has proved he can get a breeder a quality sales horse and possibly even more importantly, a runner who will keep them looking forward to that 'mailbox money' small breeders depend on to succeed."